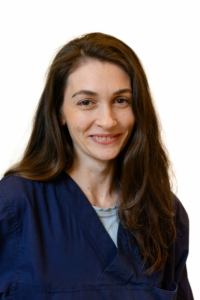 Alexandra Robicek
Veterinær
Arken Dyreklinikk
Veterinær – Alexandra, eller Alex som hun gjerne kalles, ble uteksaminert fra veterinærstudiet ved University of Agronomic Sciences and Veterinary Medicine of Bucharest i 2014. Hun elsker å synge og hadde en karriere innen musikk imens hun gikk på universitet. Etter studiene la hun sangkarrieren på hylla og flyttet sammen med ektemannen til Norge for å fokusere på veterinærmedisin. Hun startet her på Arken i april 2023.
Alex er interessert i alt som har med dyrs tannhelse og tannbehandling å gjøre. Hun brenner også litt ekstra for seniorpasientene, samt tilrettelegging for at dyrenes opplevelse på klinikken blir best mulig.
Hjemme har Alex katten «Skye»
Ønsker du å bestille time hos Arken Dyreklinikk? Ta kontakt så hjelper vi deg.